Part-Time Data Director Guide
What Does an Data Director Do?
A Data Director will create and deliver a dynamic and data-driven strategy that will help you monetise data while providing a better customer experience. They will:
Multiply and strengthen revenue streams through the application of data.
Make money directly from data via partnerships and sponsorships.
Increase marketing ROI by improving budget accountability.
Analyse customer data to gain deeper insights into their of behaviours and purchasing patterns.
Maximise customer value by applying predictive models to trigger customer actions.
Lay the foundation for business transformation with the right data, processes, people and technology.
How Can a Part-Time Data Leader Help My Business Grow?
Senior Data Directors or CDOs spearhead data and information strategy to ensure data quality, data management, data analytics, and data governance. Surveys have shown that businesses, where senior Data Directors or CDOs lead or involve heavily in digital initiatives, are far more likely to outperform others.
Using data in a clever way can change the way businesses are done, disrupt markets and completely change the nature of competition.
Looking at your business from a data lens is the fundamental skill missing on most executive teams. In addition to the core skills, senior data skill is absolutely vital for companies to alter and challenge their corporate strategy and direction.
As a business advisory team, every business small or large should have a senior data person in their decision making core team.
Knowledge & Experience
Our Data Directors have a minimum of ten years' senior data experience and a proven track record of success.
No Tie-Ins
No recruitment fees. No long-term contracts. You can leave your arrangement without any fixed contract period.
Affordable Model
Small-to-medium-sized businesses can access top-level data expertise at a significantly lower cost than hiring
a full-timer.
Complete Flexibility
Our part-time Directors can start as soon as you need them, and our flexible contracts mean you can increase or decrease commitments according to your needs.
Full-Time Benefits
We are highly skilled in managing needs on a part-time basis, meaning we can deliver the same results as a full-time Director in significantly less time.
We Join Your Team
Our Directors are team members, not just consultants – we join your team to deliver strategic vision and transformative leadership from within.
Our team of experienced business leaders have the knowledge and expertise to deliver transformative leadership that supports your business vision.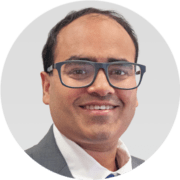 ---
Sameer is a renowned Data Leader, earning recognition as one of the Top 100 Data Leaders in the UK. He has firmly establ...
Read More
Trusted By Leading Brands
Call us today for a free consultation